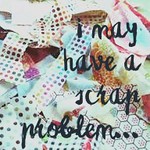 On Wednesday's, Sarah @ Confessions of a Fabric Addict, confesses that she might have a problem with her scraps of fabric. She shows us all the quilty stuff she makes out of scraps
and asks us to share our scrap creations.
I have enjoyed looking at her quilts.
I have bookmarked quilting ideas.
Today I'll show what I made Monday night
when all was quiet and cozy.
1st block of A Scrappy Trip Around the World.
I love 30's fabric.
I don't see any problem at all with scraps of fabric.
Bonnie, a Hopeless Scrapaholic,
posted the directions for this quilt here.